Winter has finally left the building, and outside work is once again a pleasure. We are nearly complete with the exterior details of this Maine Custom Timber Frame home here in Brunswick. Maibec cedar shingles have a two-coat custom color solid stain so once they are up, they're done. Just the trim needs staining.
The architect Amy Hinkley has worked closely with the clients on the beautiful green color scheme, with dark bronze window accents and metal standing seam roof.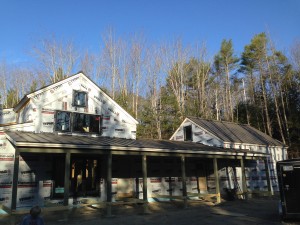 A handful of timber framed porches surround the house.
Today we're very happy to welcome ReVision Energy, our partners in solar electric energy, to install a 7.65kW grid-tied array on the roof. This will allow the homeowners to start banking credits now with CMP that will be available this fall when the house is complete.