Traditional timber framing with precise hand-cut joinery and oak-pegged construction is a cornerstone of our business.
Though "conventional" stick-framing has replaced timber framing for all but a small fraction of new homes, timber frame construction has enjoyed a resurgence in popularity in the last few decades. Timber frames are gaining traction with discerning home owners who recognize their strength, beauty and authenticity. Beyond their rugged good looks and traditional appeal, timber frames dovetail perfectly with the efficient wall assemblies and open floor plans of today's finest homes. They also make for striking features on barns, decks or other structures – the possibilities with timber frames are plentiful and we always love to hear your ideas!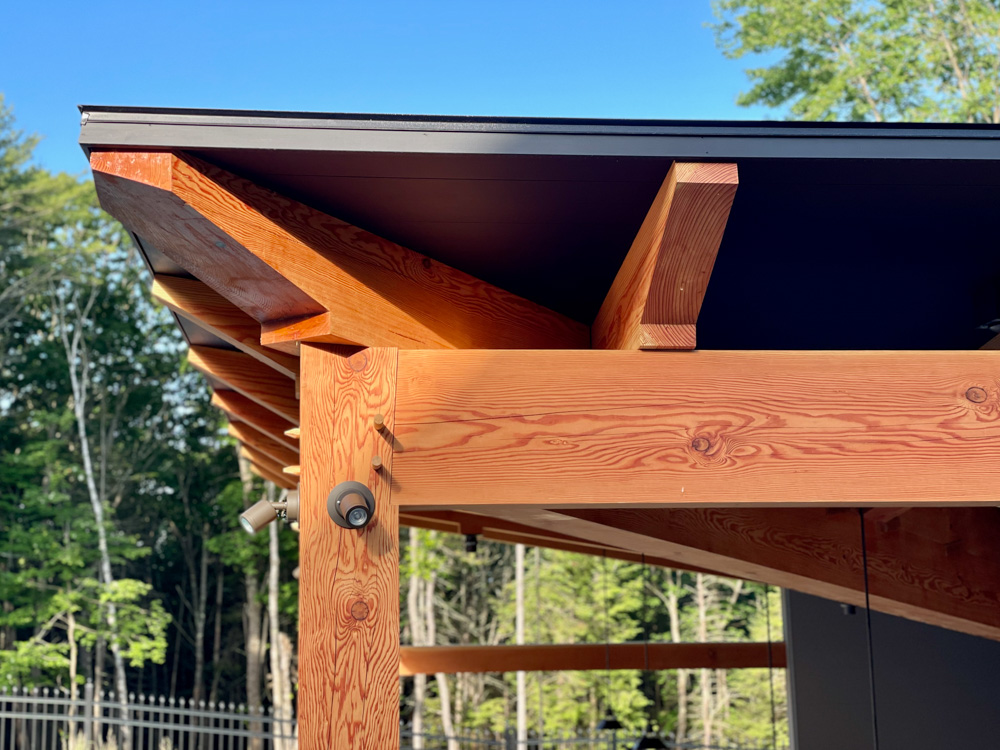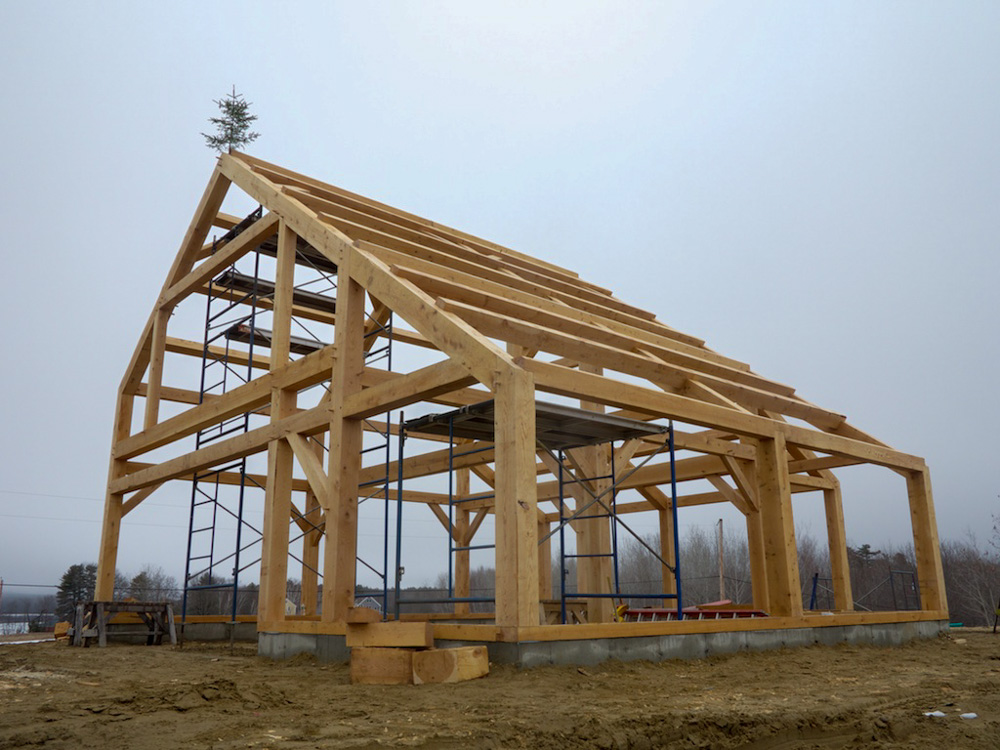 Our Process
At Benjamin + Company our frames start in the computer, whether beginning from existing architectural drawings or a blank drafting table. It's here that we work through even the most complex joinery to ensure smooth layout and efficient cutting. We cut all of the pieces in our shop in Brunswick with a combination of top-quality, specialized power tools and painstaking hand work with a chisel and mallet.
By the time the beams arrive on site, no detail has been overlooked. Our timbers go together tightly, quickly and safely, whether raising a pint-sized Douglas Fir pavilion over a hot tub, an elegant carriage house from Hemlock, or a complex oiled White Pine frame with several dormers and multiple roof pitches. Whether you're working with an architect and would like a frame to fit a custom home, or you're looking to begin from one of our existing designs for a project of any scale and any budget, we have the experience to leave you with a timber frame for the ages.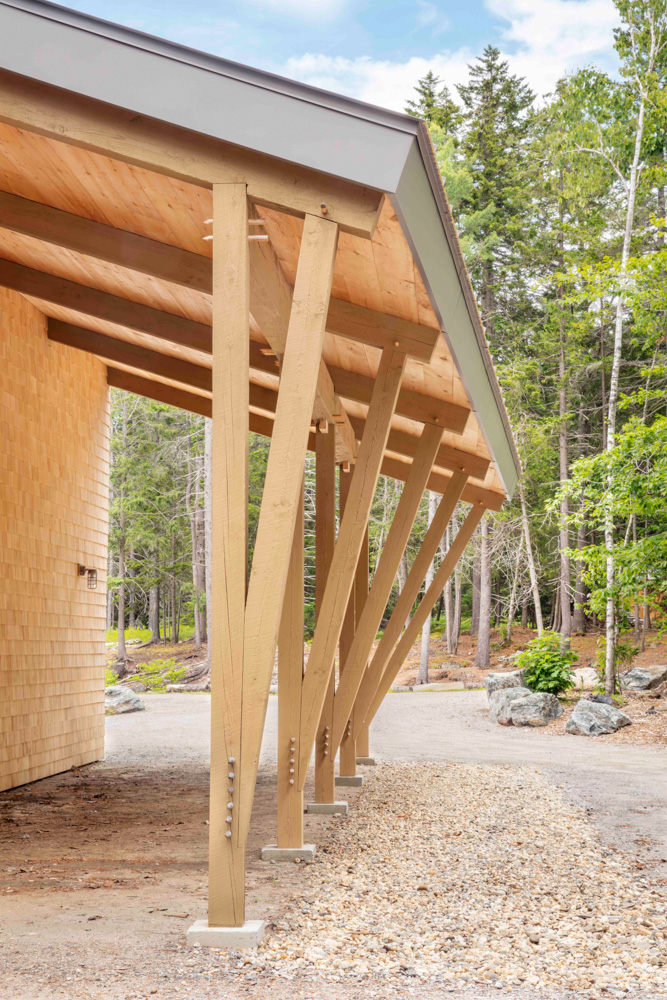 Timber Frame Build Options
We offer full construction services, start to finish as you desire. We'll work with you, and your project associates, to design a timber frame appropriate for your unique project. Your timbers are hand-crafted in the Benjamin + Co. shop utilizing specialty tools and machinery. We then ship the timbers to the site for assembly and raising. Timber frame build options include:
Just the frame!
A "weather tight" shell, including windows, insulated walls and a roof with temporary protection from the elements (often roofing underlayment). Timber frames offer great opportunities for superior insulation, usually in the form of Structural Insulated Panels (SIPs) to assemble a highly efficient building envelope. You or your builder can take it from here!
General contracting of any or all phases of your project. We are carpenters, not just timber framers. We enjoy all the craftsmanship that goes into building a home, barn, cottage… anything you'd like to do!
Ready to learn more or to start discussing your next timber frame project?
---
Recent Timber Frame Projects
Timber Frame Screen Porch
Concord, MA
Solar Powered Barn
Brunswick, ME
Cape Timber Frame Barn
Cape Elizabeth, ME
Want to see more? Visit our Timber Framing Projects page for a look at more of our past timber framing work.