It is a special treat to build a spectacular custom home from frame to finish, and particularly satisfying when the house plays to our particular expertise in both traditional timber framing and cutting-edge building materials and techniques.  This home, designed by architect Amy Hinckley proves that clients don't need to choose between livability and performance: they can have both, with top notch fit and finish, too.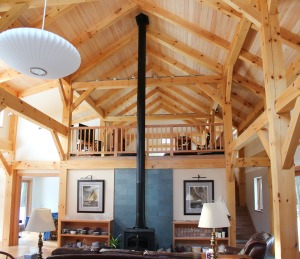 The timber frame, cut in from locally-sourced pine timber, isn't just for show: the sturdy beams with authentic mortise-and-tenon joinery support the Structural Insulated Panels (SIPs) of the walls and roof.  Combined with the efficient triple-glazed Loewen windows and doors, the SIPs allow for an unbroken, super-insulated, tight building envelope that will ensure not only low energy bills, but a comfortable home through all of Maine's seasons.  Sprawling timber-framed porches–with Ipe decking that is as durable as is it beautiful–and a metal roof with an array of photovoltaic panels from ReVision Energy round out the exterior package.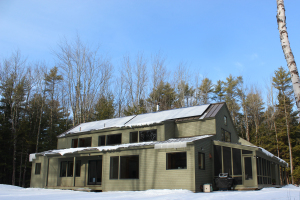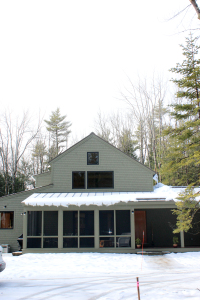 On the inside, the pine timbers get their own (albeit visual) support from many premium natural materials and finishes.  Tongue and groove pine ceilings, five-inch red oak flooring, and clear vertical grain douglas fir doors, door casings, and window sills unify the main living spaces, while slate tiles on the entryway floor and around the central woodstove contrast in color and texture, but add to the list of authentic, regionally-available materials working in harmony to build a welcoming home.  More douglas fir features prominently in the kitchen and baths, where stunning cabinets from local cabinetmaker Seth Helie support granite countertops.