The science behind solar, and electricity as a form of sustainable energy, has progressed significantly over the last decade. With advances in construction and mechanical technologies, owning a zero energy home is now something that's financially possible for the mainstream home buyer.
Energy efficient home features enable a zero energy home to generate as much or more than the amount of energy that it uses, by significantly reducing utility loads and pairing the home with renewable energy, usually in the form of solar panels on the roof.
One of the biggest selling points for people considering a zero energy home is the potential financial benefit. Not only can energy efficient home features reduce energy and utility costs, but owners can realize increased resale value with a zero energy home. When the property is put on the market, these attributes help attract offers from people who want to reduce their footprint on the planet, retain resale value, and save as much money on utilities as possible.
A full-size family can generate some very expensive utility bills. With several people living under the same roof, a zero energy home makes even more sense ‑ the more people living in one household, the higher the utility bills can be expected to climb.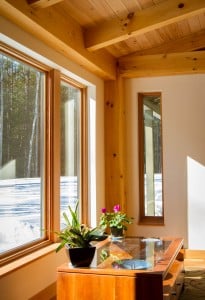 There are many more zero energy home benefits than you might think. In addition to energy savings, a zero energy home is also more comfortable and healthy than a conventional home. Triple pane windows are very energy efficient, which makes sitting next to the glass less cold and drafty. They are also quieter and don't suffer from condensation. Zero energy or energy efficient homes typically have a ventilation system which recovers heat from stale exhaust air while delivering fresh new air, cutting down on mold and other airborne toxins.
Engineering a zero energy home takes a lot of planning and testing. One of the biggest challenges is creating a shell that is as close to airtight as possible. In any kind of home, one of the biggest culprits of energy waste is with heating and cooling ‑ specifically air leaks that reduce the efficiency of heating and cooling systems. Even a small air leak can translate into dollars of wasted energy each year, depending on outside temperatures and the amount of area to be heated or cooled. Appropriate insulation also plays a major role in energy savings. The right kind of insulation can fill in air leaks inside the walls and retain heat within the home.
Energy efficient home features aren't just practical and cost‑effective, the architecture can also be very functional and beautiful. In today's building market, the design of energy efficient home features is just as advanced as the technology that makes them run.
To learn more about zero energy homes contact us today. Give us a call at 207-729-7171 or send us a note.